Our Mission at The ENT Center
The ENT Center of Central Georgia is dedicated to providing you with total care for diseases and disorders of the head and neck. We offer the highest level of specialty care for all ear, nose, and throat problems for adults and children. The ENT Center of Central Georgia brings together the very best physicians and support staff dedicated to providing you an exceptional patient experience. In our pursuit to provide excellence in medical treatment, we listen to our patients and focus on your symptoms. We develop individualized treatment plans based on your unique needs and treat you like we would a family member. Whether you have hearing problems, allergies, dizziness, sinus infections, snoring, or any other ear, nose, and throat related problem, we can help.
History of The ENT Center of Central Georgia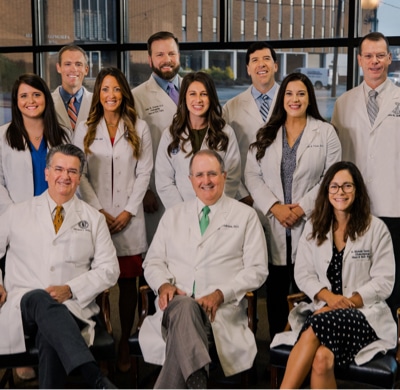 The ENT Center of Central Georgia was founded in 1956 by Dr. Claude Pennington. Dr. Pennington was a native of Macon, Georgia. He attended Mercer University at the age of 16, graduated from Mercer at the age of 19, and was accepted to the Medical College of Georgia shortly after. Following medical school, he first completed an internal medicine internship, then decided that he wanted to pursue otolaryngology. He completed a residency in otolaryngology at Columbia University in New York City. After spending a few years in the military, he came back to Macon to start his practice as his roots reside here. Dr. Warren Griffin joined the practice and had a huge impact in its growth and success. Dr. Griffin's son, Dr. John Griffin, joined the practice in 1988 as his father retired. Dr. Pennington retired shortly after in 1989. Both Dr. Griffin and Dr. Pennington are listed as Emeritus.
In 1999, we opened our outpatient ambulatory surgery center adjacent to the Macon office, a fully AAAHC accredited facility with seven surgeons, two M.D. anesthesiologists, and a highly trained nursing staff. We expanded in 2008 to Warner Robins, offering comprehensive ENT and audiological care.
Our Physicians
Our Audiologists
Our Medical Providers