The Early Hearing Detection and Intervention (EHDI) guidelines were created in the year 2000 to ensure all children got the help they needed for their hearing loss. This program ensures all babies are screened for hearing loss no later than one month of age; if a baby does not pass the screening, they must get a diagnostic hearing test no later than three months of age; and children diagnosed with hearing loss must receive intervention services no later than six months of age.
The CDC estimates that, with the EHDI program in place, about 98% of all children born in the United States have had their hearing screened, enabling infants to get treatment for their hearing loss early. For many babies, this means wearing hearing aids.
What Are Hearing Aids for Infants?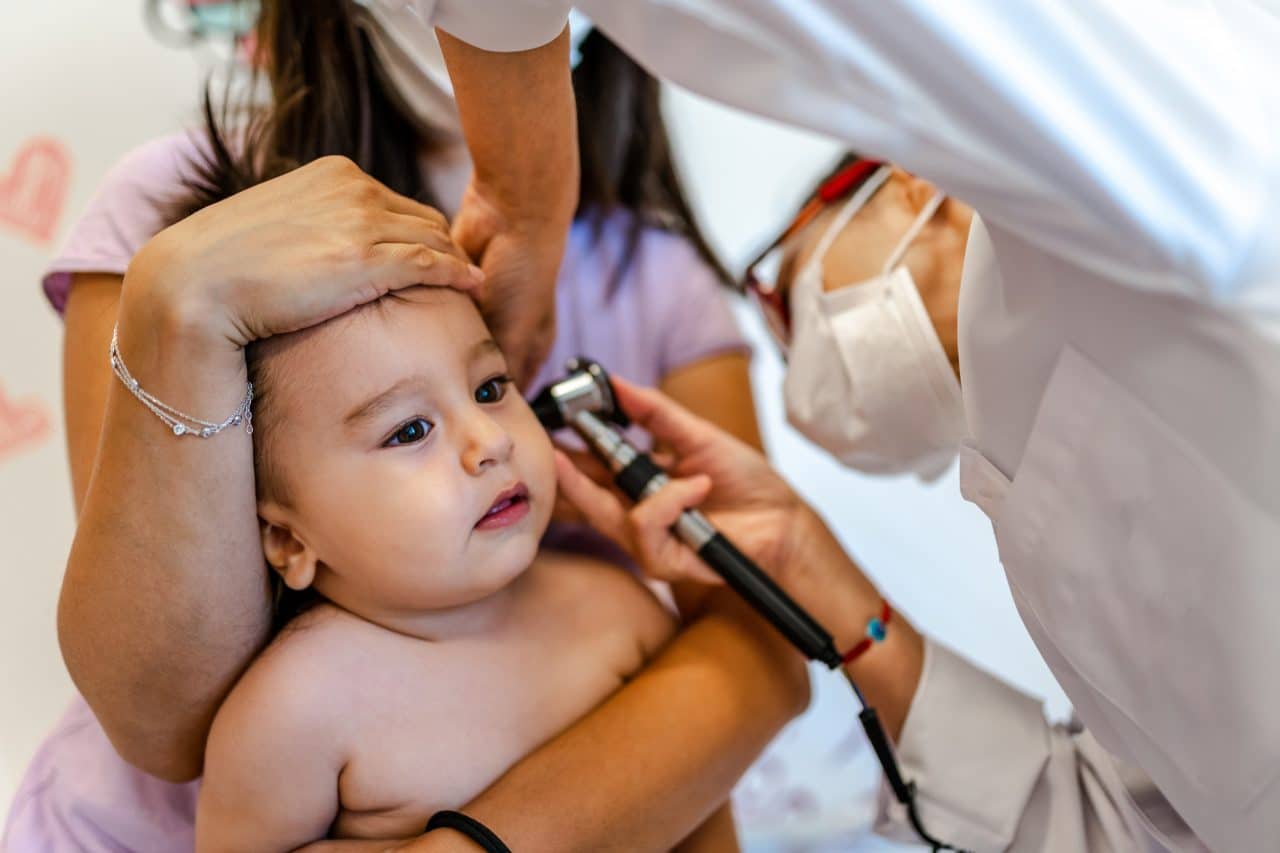 Hearing aids amplify sounds to a level the wearer can easily hear. They consist of four main parts:
The microphone, which picks up sounds in the environment
The processor, which amplifies sounds.
The receiver, which delivers sound to the ear.
The battery, which powers the device.
While hearing aids are often associated with older people, people of all ages can wear hearing aids, including infants.
There are many styles of hearing aids on the market. Your pediatric audiologist will make a recommendation based on your child's type and degree of hearing loss. Most babies are fit with behind-the-ear (BTE) hearing aids because they fit better and the earmold can easily be replaced as your child grows.
How Are Earmolds Made?
The plastic or silicone earmold that connects the BTE hearing aid to the ear is fitted once an impression is taken of the ear. When the earmold no longer fits your baby comfortably, a new one will need to be made.
When Do Infants Start Wearing Hearing Aids?
Infants can start wearing hearing aids once they receive a diagnostic hearing test, as early as two to three months of age. Babies can have their hearing tested while they sleep using auditory brainstem response (ABR) testing, which determines how well the inner ear and brain pathways for hearing are working.
Then, the audiologist uses a computer to program the hearing aid to meet the needs of your child, as indicated by the ABR test.
How Often Should Babies Wear Their Hearing Aids?
The goal is for your baby to wear their hearing aids during all waking hours. However, it will take time for them to get used to wearing them. Your child's audiologist will give specific instructions to help your baby get used to wearing the devices all day long. This will help them build essential communication skills for later in life when they play at Freedom Park. To learn more or to schedule an appointment with a pediatric hearing expert, call The ENT Center of Central Georgia today.